Can You Treat an Injured Rotator Cuff with Massage?
If you have a rotator cuff injury, you may be looking at a conservative therapy like massage and wondering how effective such might be.
Massage therapy is a commonly used form of therapy for rotator cuff and similar injuries especially among athletes, those with particularly physical lifestyles, as well as the elderly. It has long been used in the East and is gaining popularity in the West.
Let's dig in a little deeper.
Does Massage Help a Rotator Cuff Injury?
The short answer is "Yes." Depending upon the type of injury your rotator cuff sustains, massage therapy may be just the type of treatment you are looking for. Although it has not been fully and officially accepted by adherents of Western science, it has been a mainstay in Eastern medicine for thousands of years and it is continually becoming more and more accepted in treatment programs across the West.
It is a popular form of conservative treatment among athletes and others who lead a very strenuous and physical life. Of course, there is a difference between a common, everyday "spa massage" and a massage prescribed for medical purposes.
A chiropractic massage, for example, incorporates many of the techniques of a "spa massage" but combines them with a number of chiropractic techniques that can be used to realign vertebrae, treat herniated disks, and address pain caused by a rotator cuff injury.
It's important to realize that there are different kinds of medical massage therapies (like chiropractic massage) such as soft tissue massage, therapeutic massage, and fascial release massage. All of these have shown positive results for dealing with shoulder pain and rotator cuff injuries.
For example, a study of 29 patients in the Australian Journal of Physiotherapy published on Science Direct found that "soft tissue massage around the shoulder is effective in improving range of motion, pain and function in patients with shoulder pain." (1)
There are a variety of painful injuries to the rotator cuff that can be addressed or at least assisted by massage. Some of these include:
Each of these can be excruciatingly painful, particularly at night when you are trying to sleep. If you suffer from such regularly, massage therapy is just one method you can use to help you find pain relief at night.
When Should You Use Massage To Treat a Rotator Cuff Injury?
Massage therapy is beneficial on its own and also in conjunction with other conservative therapies like chiropractic care and physical therapy. As a general rule, medical professionals usually suggest that you exhaust the conservative options to treat an injury before deciding on surgery or heavy-duty potentially-addictive painkillers. And it is true, massage therapy can help heal a rotator cuff injury and eliminate the need for surgery.
However, if you wind up undergoing surgery for a rotator cuff, massage therapy may also be helpful during post-surgery recovery. Let's take a quick look at the findings from two different studies dealing with types of massage used after an arthroscopic rotator cuff repair.
One study from the Journal of Korean Physical Therapy published on KoreaScience dealt with nineteen middle-aged women recovering from surgical repair of the rotator cuff. It found that intensive Therapeutic Massage was an effective method for improving shoulder flexion mobility, depressive symptom, and QOL in middle-aged women after arthroscopic rotator cuff repair. (2)
Another study in the Complementary Therapies in Clinical Practice published on Science Direct dealt with thirty patients. It found that "Fascial release technique is acutely effective on the pain, joint range of motion and upper extremity functions in the treatment of individuals with arthroscopic rotator cuff repair and more successful results can be obtained by including it in the early rehabilitation program after arthroscopic rotator cuff surgery." (3)
As you can see, massage therapy is a versatile tool that can help heal rotator cuff injuries both before surgery (eliminating the need for surgery) and even afterward – in some cases.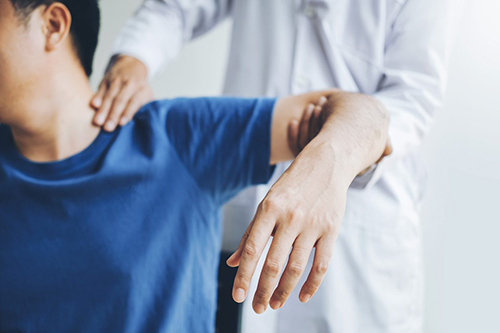 Can You Self-Heal a Rotator Cuff Injury?
If you are wondering if you can self-treat and self-heal a rotator cuff injury, it is possible. However, it is not likely and is not recommended. And, in many situations, if you let an injured rotator cuff go untreated, there is a good chance it could result in long-term issues. Because of that, it is highly recommended that you seek out a medical professional to diagnose your problem and assist you in your recovery.
A rotator cuff tear, for example, becomes more and more problematic the larger the tear is. Small rotator cuff tears, and even larger rotator cuff tears, can be healed with conservative therapies like massage therapy. But if tear is left on its own, particularly the large ones, the likelihood it will effectively heal diminishes significantly.
Generally speaking, medical assistance is always advised and, at the very least, should result in a speedier and safer recovery. If you look at how long it takes to recover without surgery you'll find that the answer depends on multiple factors: like the type of injury, the type of treatment, and other variables.
Where to Find Massage Therapy in Anchorage?
As I said, if you suffer from a rotator cuff injury, you really should seek out some form of medical care. To that end, our doors are always open. Better Health Alaska's licensed massage therapists are trained in multiple massage modalities and are ready to assist you.
We've been providing chiropractic massage therapy for over 20 years in the Anchorage area. We've also been providing chiropractic care and physical therapy services for just as long. Should you make an appointment, we will happily work with you to find the best therapy or combination of therapies to treat your condition.
Conclusion
A rotator cuff injury can be painful and aggravating. Fortunately, you do have treatment options that don't necessarily involve surgery. An excellent choice is massage therapy. Call today and we'll set you up with an appointment.