Have you had a sports massage lately? Regular massage will reduce the risk of injury, improve your flexibility, and improve the circulatory system, but a massage shouldn't be considered a "one size fits all" type of tool.
A sports massage is a targeted treatment that was designed for the biomechanical needs and physical demands that are unique to those who regularly engage in sports, such as running, football, basketball, and more. 
Anyone who stresses their bodies to their limits through physical exercise can benefit from the healing measures that a sports massage can bring. 
There are some incredible things about a sports massage that most people, outside from massage therapists themselves, know about this healing form of hands-on therapy. 
If you are reading this article, chances are that you are well-aware of the benefits of massage therapy.  (If not, you can read up about those here.)
While things have been shut down lately because of the pandemic, you may not have had the opportunity to practice your favorite sports game and now that your state has reopened, we bet you are excited about the chance to get back into the game. 
#1 – Sports massage is not a spa massage.
There are spa massages for relaxing and then there is a sports massage for healing. A sports massage is not a spa massage. Don't expect flowers, candles, and a lavender-scented pillow. A sports massage is intended to help loosen the muscles and connecting tissue, of course, but it's also designed to allow the body to heal itself more quickly.
By encouraging an increase in the circulation around the various muscles, the body will focus on healing in these areas.
#2 – It helps break down scar tissue.
For those who have had injuries in the past, a sports massage can help to break down scar tissue that has developed over time.  This leads to more flexibility and an increase in muscle function. 
#3 – It is more than just a rubdown.
Your sports massage will probably involve more than just a rubdown. Depending on your sport and the number/severity of injuries, you might also be asked to do some resistance exercise, stretching, even mobilizations. 
Don't worry, this isn't a bad thing, in fact, it's actually a big bonus. This means that your massage therapist might be an athlete themselves or they might have extensive training in this area. Lucky you! 
#4 – It helps you deal with hormonal changes.
Ladies- did you know that a sports massage can help you deal with hormonal changes in your body? Female athletes suffer from more drastic hormonal changes than most women. Sports massage can help improve the way your body deals with these changes, as well as relaxing the mind and stimulating the body to release that feel-good hormone serotonin.  When the mind and body are more relaxed, you will sleep better as well, which will help to improve your mood. 
How bad is your pain?
Take our QUIZZES below and find out!
#5 – It helps prevent muscle soreness.
Sports massage will help to prevent muscle soreness after intense exercise or after a big game. Sports massage can alleviate discomfort and sore muscles by as much as 30 percent. Even a short 10-minute or 30 minutes after the game sports massage can make a massive difference in how you feel the next day. 
#6 – It helps remove toxins from the body.
A sports massage has multiple benefits, but most people don't know that it will also flush the lymphatic system, removing toxins from the body. 
Toxins tend to build up around the joints, when they are stimulated via massage, allowing the lymph system to remove these toxins. If the lymph system is also stimulated during the massage, it helps them to drain these toxins more quickly. This will not only improve recovery time but can prevent lymphedema or edema. 
#7 – It is a combination of different types of massage.
Sports massage is more than a single massage. Nearly all massage therapists will use a combination of cross-fiber massage, a trigger point massage, a compression massage, and a deep Swedish massage to create the best sports massage for the sport that you play. 
#8 – It doesn't always leave you feeling sore.
A sports massage does not always cause pain. While in training, you've probably been told "no pain, no gain", and while it is true that some sports massage can leave you feeling sore, they don't always.  
Should I Schedule a Massage Close to My Race or Game Day?
Be sure you have your sports massage a minimum of 72 hours before a big game or marathon.
A regular massage within 48 hours of the big day is a good idea, but a sports massage is intended to help the body heal and it may leave you feeling sore. 
You will want to be careful when you schedule a sports massage. If you plan on running a marathon or playing in an important game, you should boot your appointment a few weeks before the actual date of your game. 
The reasons why you would never consider wearing a new pair of shoes or a new helmet the day of the big game are the same reasons why you shouldn't have a sports massage a few days before you play or go running. 
What About After the Game?
A sports massage after the game or marathon is also a good idea. This helps to calm the nervous system and promote faster healing. 
Be certain to be well-hydrated before your sports massage begins, especially is this is a post-game massage. If you aren't well-hydrated, the muscles and fascia will be less flexible, which means the massage will cause you more pain than pleasure. 
What Should I Expect from a Sports Massage? 
If you are new to sports massage, chances are that you are going to feel a little sore for 48 hours afterward. You might also feel very thirsty or even weak as your body works hard removing toxins and performing healing. Soaking in a warm tub and staying hydrated will help your body with the process.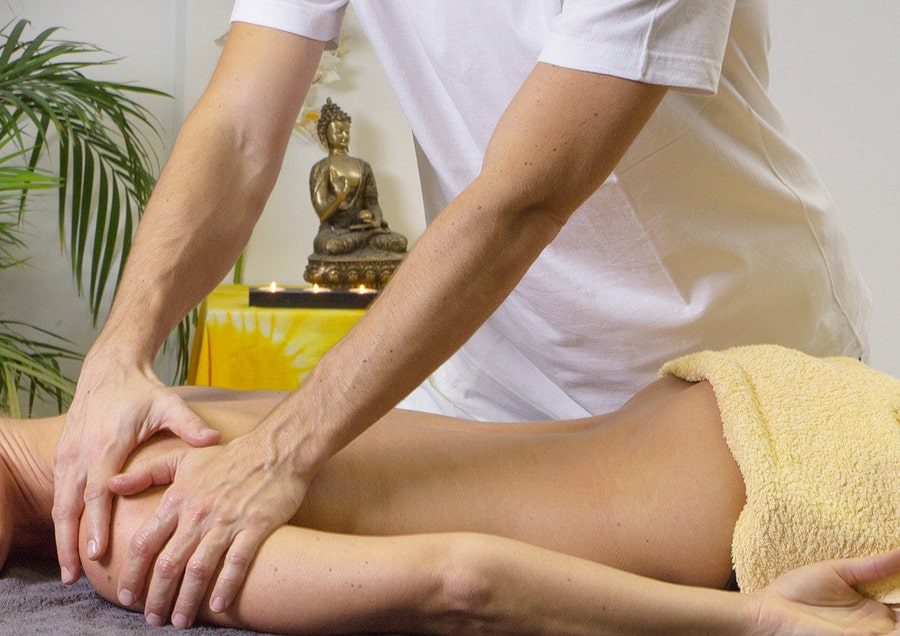 A sports massage might help you gain the "gold." When it comes to games like the Olympics, the difference between winning the gold and coming in 4th place is as tiny as 1 percent. Imagine if receiving a regular sports massage could give you that extra 1 percent edge? You may not feel it, or notice it, but your performance will show it. 
What is the Difference Between a Sports Massage and a Deep Tissue Massage?
If you are experiencing knots in certain muscles, the calves for example, then a deep tissue massage might be your best option. These are designed to remove knots, tightness, and soreness from a set of muscles due to exertion. 
However, if you need healing due to sports injuries or regular involvement in sports that require extreme physical exertion, a sports massage is more suited to your problems.
Learn about chiropractic massage therapy.
What Should I Wear for a Sports Massage? 
In most instances, wear a pair of loose-fitting, comfortable shorts, and a large, loose t-shirt. Cycling shorts are too restrictive. Socks and slip-on shoes, or tennis shoes, are also a good choice. 
How about what to wear to a chiropractor?
How Long Does a Sports Massage Last? 
Generally speaking, a sports massage should last one hour, but some people opt for shorter 30-minute sessions, but they do them more frequently. 
Speak to your massage therapist or chiropractor and ask which session would work better for you. 
If you are interested in a sports massage, a deep tissue massage, a chiropractic massage, or even just a relaxing Swedish massage, Better Health Chiropractic & Physical Rehab has massage therapists on-site that can give you any type of massage you might be interested in.
If you are experiencing pain, our chiropractors are highly skilled experts at finding the source of pain and using holistic techniques, including massage therapy, that will alleviate pain. 
Your chiropractor can also advise you regarding exercise or stretching programs to help you improve your game and to help you prevent injury in the future. 
Call us today for an appointment or if you have further questions. If you prefer, you can book your appointment online here. 
Better Health Chiropractic & Physical Rehab can help put you on top of your game!