Picnicking is one of the best to enjoy the beautiful summer weather in Anchorage. With views of wonderful surrounding wildlife, lakes, and the tallest mountain peaks in the country, it's easy to find a spot to camp out for a few hours and enjoy a packed lunch.
During the summertime, Anchorage is also lucky enough to have some of the longest days in the U.S. due to its northern location. This means you can even pack a dinner and a glass of wine, and enjoy a sunset picnic late into the night if you want!
Below are some of the best vantage spots in Anchorage to give you the most breathtaking picnic in the area. Grab a basket of food, some good drinks, and head on out there.
Kincaid Park
One of the most popular picnics, hiking, and all-around recreation areas near Anchorage is Kincaid Park. The 1,500-acre landmass is spread out over an ancient rugged moraine, located in the southwest of the Anchorage Bowl. From here, you get incredible views of the majestic Denali, the tallest mountain peak in the United States, along with a beautiful panorama of Cook Inlet. You may even spot a few beluga whales in between Kincaid beach and Fire Island if you go during a high tide!
In terms of activities, Kincaid Park is perfect for an all-day affair, along with your picnic. Take a walk, hike, or bike through the park, or join the numerous runners out for their daily exercise. Check out the awesome 18-hole frisbee golf course to try something new, or lay out your picnic on one of the 7 vast grass fields. A perfect, beautiful park right near Anchorage for a wonderful picnic.
Getting there: Take Raspberry Road west until it stops, where you'll find the park entrance. Remember that the gate for this entrance is closed every night at 10 p.m. Along Raspberry Road are trailheads that you may want to start at instead. There's no fee for parking in either lot, but you may want to choose the lower lot if you want access to the flat ski area, and the upper parking lot if you want to be closer to the restrooms.
Captain Cook Monument
This is a quaint park on the edge of downtown Anchorage near the water. Here on the coast of Anchorage, you'll get magnificent views of Sleeping Lady mountain, also known as Susitna mountain, as well as the Alaska range and a direct view of Cook Inlet. If you look north, you might also be able to see Denali. Sunsets here are brilliant over the range and make for a breathtaking evening picnic.
There is a pavilion perfect for picnicking, featuring a bronze statue of the famed British explorer Captain James Cook looking out toward the sea where he voyaged in 1778 aboard the HMS Resolution ship looking for the Northwest Passage. He never reached Anchorage or found the passage in Cook Inlet, but he sent his ship's master to the land instead.
Getting there: Located in Resolution Park in downtown Anchorage.
Earthquake Park
Looking for better views of the mountains? Earthquake Park is perfect – don't let the name deter you! It is named after a tragic event in 1964 where an entire neighborhood slid into the ocean during an intensely powerful earthquake (9.2 on the Richter scale). However, despite the unfortunate circumstances, the park is now a 134 acre wooded area, with awesome views of the city of Anchorage surrounded by the Chugach Mountains. You can also easily see Denali from here.
This park is another coastal one, right along the Knik Arm between Hood Creek and Point Woronzof. It has a wide open area perfect for picnicking, and you'll even find some unique wildlife like moose here to join you!
Getting there: Just off of West Northern Lights Blvd. Eith past Lake Hood Drive, or bike in from downtown along the Tony Knowles coastal trail.
Point Woronzof
Just a little further along Cook Inlet on the Coastal is Point Woronzof, another awesome picnic spot. It's a bit bigger at 191.7 acres, and was developed recently in 1994. It's highly valued for its coastal tide views, its natural wildlife preserving habitat, and recreational areas, which is where you would go for your picnic! Spot huge whales in Cook Inlet when the tide is high, watch jets take off from Ted Stevens International Airport, or just relax and enjoy the surrounding panoramic mountain views as you enjoy your picnic.
Getting there: Off of Point Woronzof Rd., just Northwest of Ted Stevens International Airport.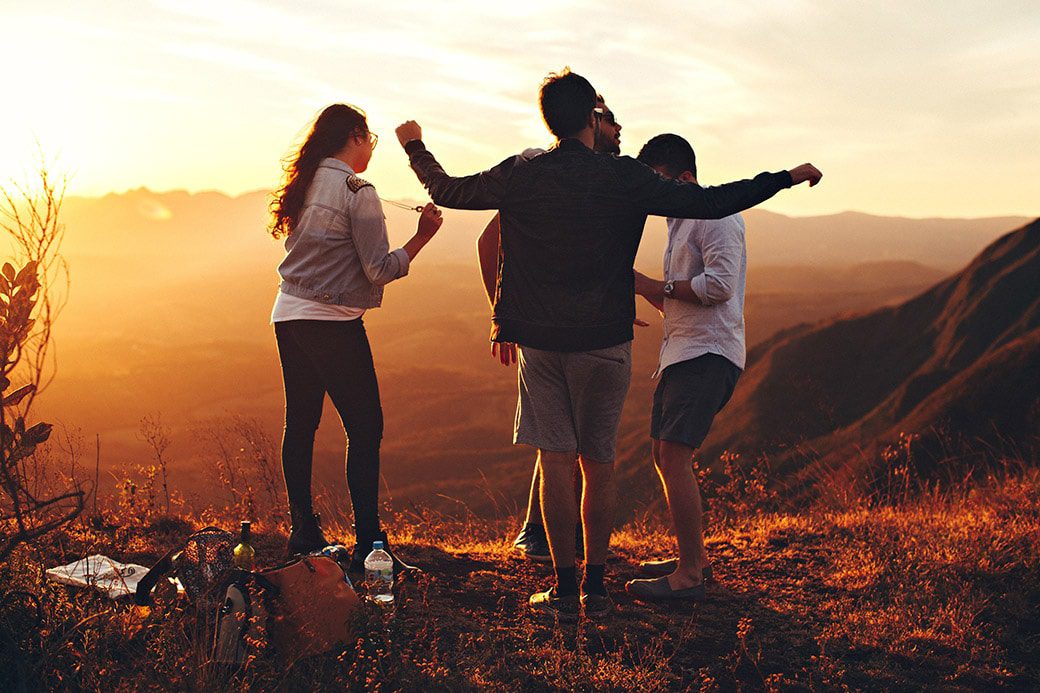 Glen Alps Trailhead
This spot is super versatile. You can stay at the bottom of the trailhead and enjoy a nice relaxing picnic in that lovely wooded area, or make the trek up one of Anchorage's favorite hikes to the summit of Flattop Mountain. There are various routes ranging from easy to difficult as well, so don't worry if you're not an experienced hiker. From the top, if you look 1,300 feet down, you'll get practically an aerial view of the city! It's also incredibly serene and isolated up there, perfect for a little privacy for your picnic.
Getting there: Just a 20 minute drive from downtown. Take Seward Highway to O'Malley Road and turn toward the mountains. Follow O'Malley to Hillside Drive. Turn right, then left at Upper Huffman. Turn at Toilsome Road and you'll find the trailhead at the end of the road.
Bird Point
Another beautiful spot to go whale watching at high tide is Bird Point, one of the scenic stops along the Turnagain Arm route. From this point, you can also see some Dall sheep if you're lucky! After your picnic, take a walk (or drive) through the paved multi-use pathway to Girdwood for another stunning view, or for a bite to eat if you forgot the food at home.
Getting there: Located inside Chugach State Park.
Here at Better Health Alaska, we also have recommendations for an ultimate guide to summer activities in Anchorage.
Aerial Tram at Alyeska
If you're looking for something a little different and more luxurious for your picnic, try out the aerial tramway at the Hotel Alyeska. Bring your picnic basket and ride the tram 2,300 feet up from the valley, and get aerial views of Turnagain Arm, Chugach Mountain range, and 7 alpine glaciers on the way to the top. It's only a 7-minute ride, too. It's open all summer, daily, from 9:30 a.m. to 9:30 p.m.
At the top, there's a beautiful observation deck open to guests of the tram where you can have your aerial picnic overlooking the mountains, hanging glaciers, streams, spruce forests, and more. Telescopes are also available up there so you can get a better look. Sunset is especially beautiful from up here. If you forgot your food down in the valley, you can also check out the Bore Tide Deli or the Seven Glaciers restaurant at the top.
Getting there: Head south on Seward Highway, then take a left onto Alyeska Highway. Take a left at the T intersection and follow the road for a mile until it ends, where you'll find the ticket office in the Hotel Alyeska.
Spencer Glacier Whistle Stop
Another fun, unique picnic experience is the Spencer Glacier Whistle Stop. The only way to get here is by train on the historic Alaska Railroad! The exclusive rail trip takes you from Turnagain Arm to Spencer Glacier Whistle on an old-fashioned train reminiscent of the frontier era. Once you're there, enjoy a huge recreation area complete with kayaking, camping, hiking, nature walks, paddling, and of course, picnic areas.
Spencer Glacier is one of the largest and most magnificent in the area, with rugged terrain, mile-high peaks, glistening waterfalls, and beautiful rivers and lakes in the surrounding area. If you'd like, you can book a raft trip to the glacier itself from the train stop to get a closer look, but for a nice and relaxed picnic, you can stay in the recreation area and take in the views instead. This is a truly "off the grid" experience where you can really tune into nature and enjoy the company of your picnic buddy!
Getting there: Located inside Chugach National Forest, must ride the Glacier Discovery train to the Spencer Glacier Whistle Stop.
Rodak Loop
Last, but certainly not least, the Rodak Loop is another great picnic spot located on the valley floor behind the Eagle River Nature Center. The short, easy walking path leads to several different viewing platforms in a clearing nestled inside some of the tallest peaks in the Chugach range. As you can imagine, these views are nothing short of stunning. There are also waters surrounding the pavilions, where you can see salmon and beavers in the waters, along with bear and moose in the park. For a really immersive nature experience, picnic here in the Rodak Loop.
Getting there: Located inside Chugach National Forest, just off of Eagle River Road.
Summer is the perfect time for picnicking in Anchorage. Hopefully, you take advantage of these suggestions and enjoy a wonderful meal, coupled with the beautiful views of the surrounding area!