So, you've finally decided to join the crowd and get granola snacks, go organic, and get on the Kombucha tea and yoga train.
Or have you been a fan of yoga for years, but find you need a change of pace or schedule?
Either way, good for you!
Yoga has been proven in scientific studies to help with low back pain(1), reduce stress(2), and lower blood pressure(3).  In combination with chiropractic care, yoga is one of the best ways to keep your body supple and flexible.
If you are looking for a new yoga studio or simply don't know where to begin, we have tips and pointers about what to look for and which are simply the best yoga studios in Anchorage.
How to Choose the Right Yoga Studio for You?
When it comes to choosing a yoga studio, it's important to find the right one for you. Everyone has their own likes and dislikes, not to mention schedules and expectations. Or, maybe, you're just looking for some new things to do in October?
Before choosing a yoga studio, ask yourself the following questions:
a) What is Your Aura?
 In other words, what is your vibe or your attitude? Are you laid back and casual? Are you an aggressive go-getter or "A" type personality? Do you need someone to push your limits or do you want to be accepted for whatever you can manage that day?
Almost all studios have a beginner's or a trial class where you can get the feel for the instructor's vibe. If you don't feel comfortable in the space, if the instructor seems a bit too "military" for your style, or if the studio just doesn't feel right, move on.
b) Is it Hot Enough for You?
Many people, especially those in Alaska who are stuck with cold temperatures for much of the year, love the hot yoga classes. These programs are set in rooms that are somewhere between 95-100 degrees and Bikram yoga at a minimum of 105 degrees.
If you simply wilt at the thought of anything over 80, don't even bother with hot yoga classes or studios. If you think anything under 90 is chilly, you will probably feel right at home.
c) What Are Your Expectations?
Knowing what you want from a yoga studio will also help to narrow down your choices. If what you want is to lose weight, then a studio that offers a wide selection of different types of yoga would be a good match.
Are you interested in the Zen aspect of yoga? Do you want to learn which poses are best for healing the body?
Perhaps you simply want to stretch to your maximum potential and get some major stress release.
Check out the instructor's profiles online and see which one appeals to your expectations. You can also try explaining your desires to the person who is working the counter. If they look at you like you're bizarre or if they are pushing one particular class or subscription, find another studio.
d) Are You Looking for a Tribe or a Cult?
The word cult has gotten a bad rap over the years and we understand why, but let's face it, some people like cults. Not everyone is a leader and not everyone wants to be buddy-buddy with their next-door-mat-mate.
If you like to be part of a crowd where the focus is on the leader or instructor, you will probably enjoy a studio that is run like a cult.
If you prefer feeling like a member of the tribe where the instructor and other members of your classes genuinely care about you and your goals, then look for a studio that makes you feel like a member of the family, not an employee.
e) Do You Prefer Community or Clique?
For most of us, one of the worst things about high school was the snobby cliques that looked down on everyone who wasn't like them.
Unless you were a member of a clique and you found that cool, the rest of us are much happier feeling that we are part of a community.
No one wants to be sneered at or snickered about our $10 Walmart yoga top. If you come to class and you don't have the latest Lululemon yoga pants or a stainless steel refillable water bottle with a charcoal filter, no one should bat an eye.
The 6 Best Yoga Studios in Anchorage
Now that you have a better idea of what you want in a yoga studio and instructor, we want to offer our reviews of what we feel are the top 5 yoga studios in Anchorage.
Since everyone has their own preferences, these are in no particular order. Each studio is outstanding in its own right.
1) Deha Yoga
The word Deha in Sanskrit means "soul covering". Think of soul covering as your body and you get the idea behind the name of this popular studio. Deha Yoga in Anchorage has multiple cool things to offer including:
A free tour
Yoga mats and towels
Locker rooms and showers
A filtered water and tea station (simply bring your own bottle)
Class registration online or in person
Large rooms with at least 18 inches of space on all sides (no more sweating on someone else's mat!)
Private lessons in private rooms
This yoga studio seems to have thought of everything! They also offer space to just drink your tea and relax, massage therapy, and even a boutique where you can shop for some cool new threads. There is even an app for your cell phone!
Deha does not allow late entries into classes, which is either a plus or a minus, depending on how you want to look at it.
If you want to try out the studio before making a long-term commitment, Deha Yoga also offers a $30 for 3 class special, as well as occasional free yoga in Anchorage as a community class event.
2) Anchorage Yoga & Cycle
This yoga studio believes in taking care of all aspects of the body. Yoga is great for stretching, healing, and stress release, but we also need cardio for a healthy heart and strong lungs.
This company considers itself more than just a yoga studio, but a boutique fitness studio that offers a variety of programs for the ultimate in connecting both mind and body.
Anchorage Yoga & Cycle has a lot going for it, including:
Massage & bodywork
A huge variety of classes, including yoga & dance, inversion (headstand) workshops, and even acoustical music venues during the full moon
Teacher training
Private classes
Spinning classes
Kids yoga classes
Anchorage Yoga's schedule is quite varied and can change from day to day, but many weekday classes run between 6 AM to 6 PM, but weekday classes run from as early as 6 AM to as late as 6:15 PM. Most weekends are from 8 AM to 5 PM, but check the site for exact times, classes, and instructors.
3) Spirit Path Yoga
Spirit Path Yoga has so much to offer that it will be hard to list it all here!
Of course, they offer a large variety of yoga classes, including restorative yoga, group meditation classes, Hatha for beginners, and Vinyasa classes, this studio also offers:
Acupuncture
A health clinic featuring naturopathic medicine, Ayurvedic spa treatments, and East Asia medicine
Mental health services
Yoga teacher training
Ayurvedic medicine classes/training
Spirit Path also features workshops, private yoga classes, and music therapy.
Yoga classes vary but range from as early as 10 AM to as late as 8:30 PM, but not every day, so check their schedule.
People seem to like the company's "class pass", which offers members the chance to purchase a set number of classes for a discounted price. Drop-ins are also welcome if the class is not sold out.
4) Open Space Yoga
If you like to shake things up a bit, this might be the studio for you.  Open Space offers both yoga and dance classes, including prenatal classes.
The word that best describes this studio is "diversity". In addition to yoga, this studio offers:
Workshops such as Dao, the Chinese tea ceremony, retreats, Chinese Cosmic Orbit Qigong, Tai Chi classes, and more
Massage therapy
Workshops and events for children and families, including yoga classes, dance classes, and music classes for children under 5
Belly dancing classes
Private yoga classes
Prenatal yoga classes
Open Space also offers summer yoga classes at the University of Alaska Anchorage. Check their website for exact times and schedules.
This studio also offers rental space for whatever you have in mind, including group meetings or a co-worker's meditation get-together.
5) Studio Hot Yoga
Studio Hot Yoga Anchorage often just called "Studio", specializes in hot yoga classes. They offer a huge (1,600 square foot), a state-of-the-art hot yoga studio that is very popular, even in the summer!
If you think you might enjoy hot yoga, you should check out Studio as it offers:
Your first class free
A discount on a pass for 10 classes
Online class sign up
Cell phone apps to sign up or to check schedules
Mat rentals are available
Studio Hot Yoga does not offer classes for children or anyone under 16 years of age. There is a 5-minute grace period on classes, but you need to call in advance that you will be late, otherwise, standby clients will take your place.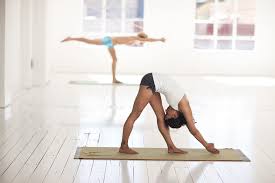 6) Namaste North Yoga Studio
Don't let the name fool you, Namaste North is in downtown Anchorage.  The company lists itself as a yoga/café/boutique, so for those of you who are interested in some shopping and downtime with a light meal and tea, this is the place for you!
Namaste North Yoga offers:
Organic food and smoothies at the café
Private yoga sessions for 1 or 2 persons
Corporate yoga as a series of classes or for your company retreat
Studio rental for private events
Workshops and group travel, including trips to Sri Lanka
Namaste North offers lunchtime yoga sessions (shorter, 55-minute sessions you can squeeze in during your lunch break), core fusion yoga, and candlelight yoga, just to name a few.