Sure, you could head to a Starbucks for your morning cup o' joe, but why go with something so generic when Anchorage's coffee roasting scene is so eclectic and booming? There are plenty of coffee shops in the area offering locally roasted blends with unique drinks and delicious food to go along with it.
According to The Guardian, Anchorage is a mainstay for coffee connoisseurs, calling it "the most caffeinated place in the country," where "coffee carts are as common as roadside moose." We completely agree, and wear that badge proudly. Anchorage's coffee culture is as rich as its java blends.
So the next time you are out sightseeing in Anchorage, check out some local favorite spots for a great cup of coffee below.
Kaladi Brothers Coffee
First up, one of the mainstays of Anchorage's coffee scene is Kaladi Brothers Coffee. The brothers started this company as a simple coffee cart in Anchorage back in 1986, and they've expanded rapidly since then, now distributing their coffee all throughout the American west. All of their roasting is done locally in Anchorage, and they source high-quality, socially-conscious beans for their roasts. They offer organic and fair trade blends along with standard blends as well.
It's a favorite of locals for its delicious espresso, drip coffee, knowledgeable baristas and great quick snacks. They also have a whopping 12 locations throughout the city of Anchorage, each with its own wifi hot spots (a huge plus). Below, you can find information for the downtown Kaladi Brothers location.
Address: 621 West 6th Ave. Anchorage, AK 99501
Hours: Monday-Thursday 6am – 7pm, Friday 6am – 8pm, Saturday 7am – 8pm, Sunday 7am – 6pm
Website: kaladi.com
Phone: 907-644-7438
Top Online Review:
"I would come here just for the coffee, as they roast their own with a different method than others and it is a wonderful, smooth coffee. But the baristas are really the best part of the experience, as they know how to get the best espresso pulls and an almost "creamy" mouthfeel from the coffee. Erika, Kira and Sean are standouts in an excellent crew and they make my day every time I see them." – Gerry M., Yelp
Dark Horse Coffee
Dark Horse is the place you want to go if you want a great cup of joe and an awesome, quirky atmosphere. It's a family owned coffee shop where coffee puns abound and the drinks are simply delicious. Try the breve lattes, cappuccinos and macchiatos, and if you really need a serious pick-me-up, check out their Red Bull smoothie! They use incredibly fresh ingredients, too, and provide quick-bite type snacks.
Address: 646 F Street, Anchorage, AK
Hours: Monday-Friday 6:45 – 6:00, Saturday 8:00 – 4:00, Sunday 9:00 – 2:00
Website: https://www.darkhorsecoffee.com
Phone: 907-279-0647
Top Online Review:
"When I visit Anchorage, this is my go to coffee shop. Since its downtown but off the main street, parking can be easier to find here than some other options. Free wifi, friendly staff, and a cozy room to settle down at. Plan on waiting a little while because the line can get quite long but if you have the time to wait its a nice place to settle in. There are a few varieties of quiche and an assortment of other pastries along with some healthier options including Avocado toast." – Gretchen G., Yelp
Jitters
When you think of a coffee shop, you're probably basically picturing the interior of Jitters cafe, located in the heart of Anchorage. This cozy spot is the epitome of a small-town, local cafe, complete with comfy couches, a fireplace, and tables for you to bring a book and hang out for the day. Many students gather here to do school work or meet with friends, and it's a real community center where the baristas know their regular customers by name. For that cozy community coffee shop feel, stop into Jitters. Oh, and their coffee is delicious too!
Address: 700 W 6th. Ave. Anchorage, AK 99501
Hours: Mon – Thurs 5:30AM – 9:00PM, Friday 5:30AM – 7:00PM, Saturday 6:00AM – 7:00PM, Sunday 7:00AM – 7:00PM
Website: https://www.jitterseagleriver.com/
Phone: 907-694-5487
Top Online Review:
"Alaska loves it's coffee, and this place is no exception.  It is quite a large shop with lots of different seating options.  They have a pretty extensive drink menu, but they also offer a lot of great bakery treats plus breakfast and lunch items.
I really enjoyed their chai tea latte, and they make an excellent cappuccino.  Their homemade pumpkin bread is delicious, and they serve a very hearty portion of it.  They also have delicious quiches that are excellent for breakfast. They have several other bakery items that I would love to try!" – Daniela A., Yelp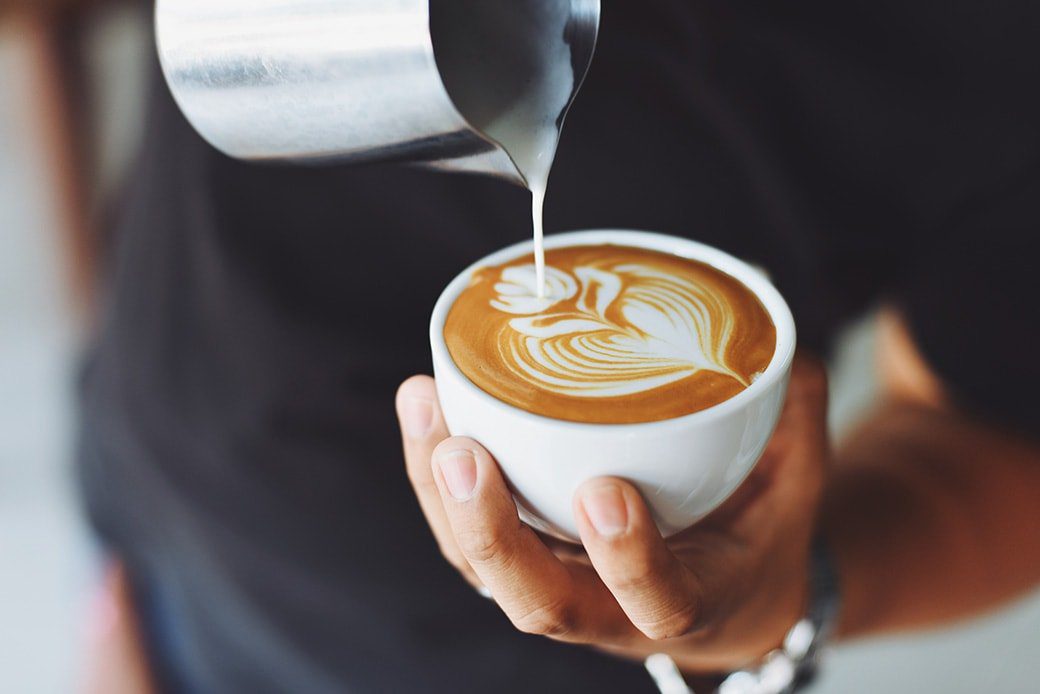 SteamDot Coffee
SteamDot Coffee, located on O'Malley Centre Drive in the city, offers incredibly fresh, smooth blends of coffee. They roast their beans fresh daily, and store the coffee in airtight containers until it's ready to be brewed to ensure you're getting the freshest, most aromatic and delicious cup around. As if that isn't enough, they bottle their own cold brew for you to take home if you'd like, and they also make homemade chocolate ganache for their mocha drinks. You don't get much fresher, or homemade, than this.
Address: 10950 O'Malley Centre Drive, Anchorage, AK
Hours: Monday-Friday 8am – 4pm
Website: http://www.steamdot.com/
Phone: 907-344-4422
Top Online Review:
"I stopped by here this past Sunday with my father for my morning coffee. Whenever we first walked into the place you could really smell their sausage and boy did it smell good! The inside of this place is fairly open with a counter to order your drinks and tons of other seating. Since Steamdot had the words "coffee lab" on its sign, it wasn't a surprise to me that you could order single origin coffees in a variety of ways including v60 or chemex. After looking over their four choices of coffee, I decided to go with a v60 of the coffee from Ecuador due to its description of citrus notes. I then watched the barista wet the filter, measure out the correct amount of coffee and make it. All told it was maybe 5 minutes from ordering until I had my coffee and was out the door. As for the coffee itself, I liked it. It was strong and smooth and yet had those citrusy notes which were described. You could also tell that it had been recently roasted by the taste which was nice. The bottom line for me is that I would head back here again in the future. I enjoyed my coffee and loved all the different single origin and brewing options." – Jason F., Yelp
South Restaurant + Coffeehouse
Located in the south section of the city, the aptly named South Restaurant + Coffeehouse was developed by the award-winning owners of Snow City Cafe, Spenard Roadhouse, and Sacks Cafe as a fourth location to serve local Alaskans. Its clean, modern atmosphere coupled with its delicious coffee creations make this a great location to stop by at any time of day since they have a full lunch and dinner menu as well!
 It makes a great finale to a day of visiting the various Anchorage parks and other sites around town. Just stop in and check it out!
Address: 11124 Old Seward Hwy, Anchorage, AK 99515
Hours: Monday – Saturday 7 am – 5 pm, Sunday 8 am – 5 pm
Website: southak.com
Phone: 907-770-9200
Top Online Review:
"This place is my favorite breakfast/brunch spot in South Anchorage aside from the older AK classics. Food and drinks are awesome (I usually order love on a plate with eggs), and the staff has always been helpful, even if there's a long wait. The breakfast portions are great–I can eat here, head out and hike all day, and not eat again until dinner :)" – Jamie B., Yelp.
The Kobuk
For a real sense of hometown coffee with an industrial, historical flare, check out The Kobuk coffee house, located in the Kimball building which has been a fixture of Anchorage since 1915. The cafe itself is actually located at the back of the building in what used to be the proprietor's kitchen and living room, giving it an incredibly homey and historic feel. The antique flooring and displays complement the unique coffee blends served here. Some of the blends names can give you a sense of the eccentricity of this shop — golden pecan, snickerdoodle, seville orange, and more. They have delicious snacks and pastries as well, including an award-winning old-fashioned doughnut. Be sure to check out the gift shop as well, since it's all owned by the same family and features locally made goodies. The whole operation has been in business for over 50 years, so you can get a real sense of the history and culture of Anchorage from this little coffee shop!
Address: 504 W 5th Ave, Anchorage, AK 99501
Hours: Monday-Saturday 10am – 8pm, Sunday 11am – 6pm
Website: https://www.kobukcoffee.com/
Phone: (907) 272-3626
Top Online Review:
"First time visiting this business. The decor is very interesting, feels welcoming and has a great vibe to it. A huge difference from the standard Starbucks atmosphere. They have a huge selection of coffee and tea. They also offer a large variety of sweets and coffee/tea related items. The staff was very friendly and approachable. I ordered a large latte and a cake cinnamon donut. They were both amazing!! The shop has a patio with several tables/chairs along with a parking lot in the back of the store. Stop by if you want a different, yet trendy and welcoming coffee shop." – Cesar L., Yelp
Here in Anchorage, we know and love our coffee. With so many different local roasters and coffee shops to choose from, it can actually be a little overwhelming to pick a spot! Hopefully, this list narrows it down a bit for you, and you can find the best cup of coffee you've ever had!
If you are interested in yoga, I have written a list of highly recommended yoga studios in Anchorage.