Alaskan weather can present a unique set of challenges for anyone wishing to maintain an active lifestyle. The long summer days provide plenty of sunshine and mildly warm days. With temperatures often ranging in the fifties or sixties, outdoor activities often take on a whole new form.
Winter activities can be tricky due to lowered temperatures and the extreme snow conditions that may develop. Yet, it is the winter snows that provide much of the surfaces for winter fun in Alaska. As our outdoor spaces change with the season, so do our activities.
Solitude and quiet easily take on new meaning on many trails. Long winters offer plenty of time for snowshoeing, sledding, skiing, and snowmobiling. The warmer months offer plenty of open trails, bursting with foliage and animal sightings. Melting snow trickles down through waterways welcoming creatures of all kinds to come and enjoy the open spaces.
May through September is the most common time for leisure activities in Alaska. However, snow brings its own sense of adventure during the rest of the year. This combination provides Alaskans with a unique setting for plenty of active fun! Pick your activity and get moving through each season!
Safe Outdoor Fun
Safety is always something to consider but changes dramatically with the varying weather conditions that may be experienced in the Alaskan countryside. Traveling with a satellite phone is a good idea if one is available. If we want to enjoy the remote and unseen places, that usually means that cell service may not be available where we trod. Then again, maybe this is what we seek to encounter most – nature at its finest – pure and untouched by modern expectations.
Snowy, cold weather conditions require a bit more planning for the cold and darkness. Hikers must be cautious in the early spring as rain can cause the waterways to become incredibly powerful. The summer months open up a few more trails in Alaska. Guard yourself and those in your party properly for even the most unexpected weather conditions and animal encounters.
Caution must be given regarding the current physical capabilities of each person in a traveling party. Food, water, medications, and emergency sleeping accommodations should be considered for each member. Even if you plan to return before bedtime, good planning means being able to keep you and those with you safe in unexpected circumstances. These matters need to be considered in every season and location in which one chooses to make their adventures – but especially when relishing the Alaskan countryside.
1) Gates of the Arctic National Park
Gates of the Arctic National Park is not for the faint of heart. A good amount of manpower will be needed to travel through this remote park. Traditional roads and modes of transportation are not available. Travelers often choose the river as a primary source of movement through the park.
The terrain here will offer challenges that must be considered in advance. Cells phones are not likely to work. Be prepared to cross streams, navigate brush, and encounter various types of wildlife. A backpacker's dream! Your heart – and your heart rate – will love this park! While Gates of the Arctic may not be the most accessible, it offers one uncommon bonus: free entry.
2) Denali National Park
Denali National Park offers a scenic ride on the bus to enter this magnificent park. Then take a brisk walk on the Savage River Loop or through the Triple Lakes trail. Choose a ranger-led hike and learn something new while enjoying the park on foot. Give your lungs a workout on the trails of Denali!
3) Wrangell-St. Elias National Park
Wrangell-St. Elias National Park is packed with sites to keep your interest as you get your heart rate moving. Glaciers, historic sites, and mountain views will inspire you to keep moving! Puffs of steam from Mount Wrangell can sometimes be seen. Scientists show that current volcanic activity does not display a risk for major eruptions from Mount Wrangell.
This national gem offers miles and miles of trails for all levels of experience and ability. The sheer vastness of land space allows visitors of all kinds something to enjoy! Wrangell-St. Elias offers multiple points of entrance, making it accessible to much of southeastern Alaska.
4) Kodiak Island
Kodiak Island is a wonderful place to go fishing or bird watching. Take in some spectacular panoramic views as you saunter these trails throughout the year. A ferry or plane trip will be required to get you to this incredible location just southwest of Anchorage. Overnight accommodations are needed in advance. The tiny community on Kodiak Island has limited rooms to the public. Stretch your legs in the fresh open air!
5) Glacier Bay National Park
Glacier Bay National Park stands to inspire travelers of all ages and interests. Marine park or land park? Glacier Bay is both! Would you like to go whale watching or see a glacier? Eyes of all ages will be ready to take on the sights at Glacier Bay located just northwest of Juneau.
Sometimes referred to as a 'living laboratory,' Glacier Bay offers scientist, adventurists, and leisure travelers something to enjoy. Research projects bring all types of observers to this dynamic region. Glacier Bay offers plenty of options for even the littlest of feet! Bring your walking shoes and explore!
6) Kenai Fords National Park
Kenai Fords National Park offers a great place for viewing glaciers, kayaking, and foot travel. Hike the Harding Icefield and you will feel as though you have really conquered something important. If the 8.2 trek seems too lengthy, trek out as far as you desire and return the way you came. The endeavor is worth it no matter how far you choose to walk. Just south of Anchorage, Kenai rests in close enough for a weekend adventure or perhaps a longer day adventure for many in Alaska.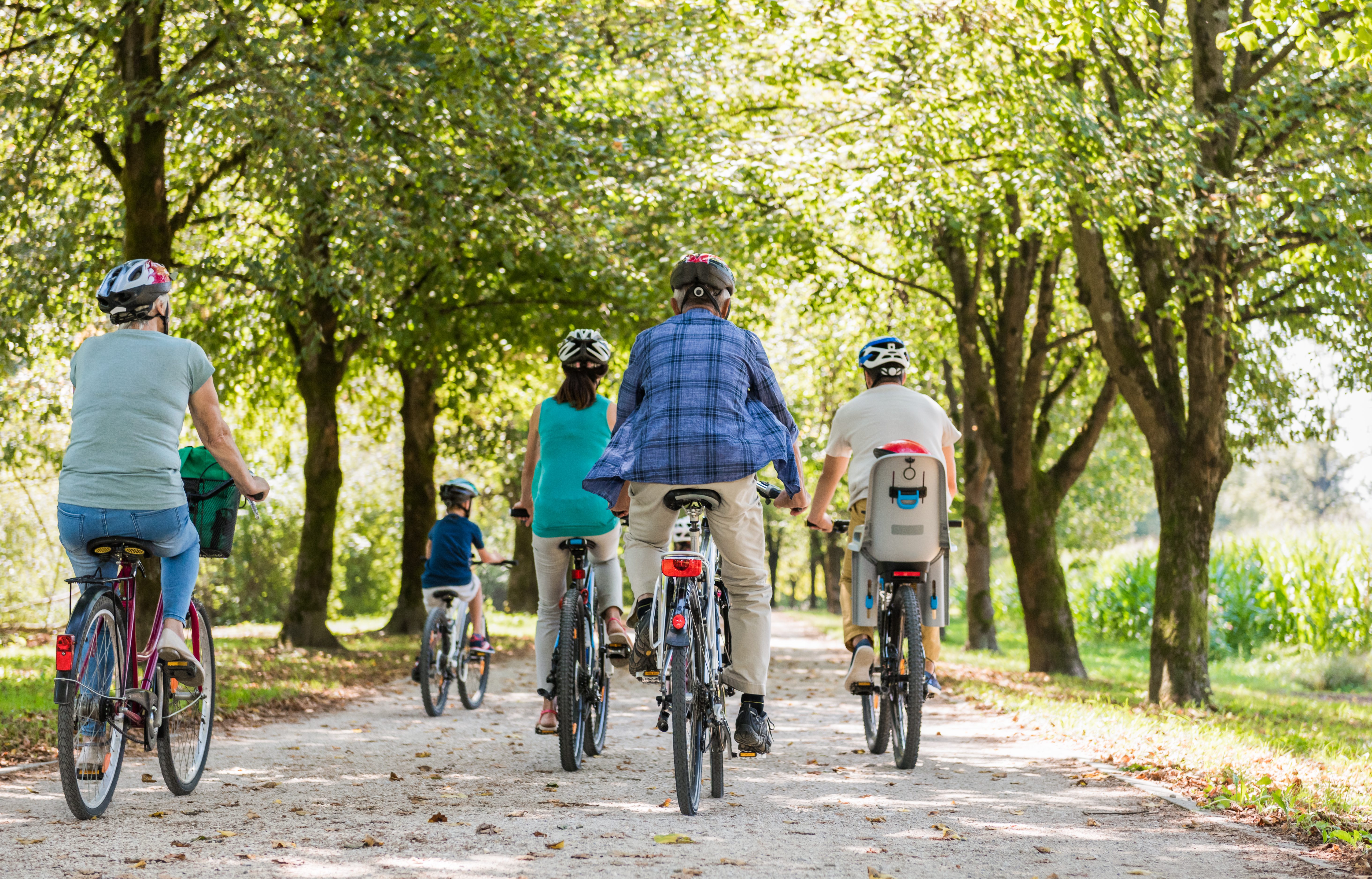 Looking for a Place Close to Anchorage?
7) Kincaid Park Trail
Kincaid Park Trail offers varying options by the seasons. In the winter, cross-country skiing is available. In the warmer months, cycling becomes the favored activity at Kincaid Park Trail. History lovers will soak this one up with the former missile sites in view.
8) Tony Knowles Coastal Trail
Tony Knowles Coastal Trail provides 11 miles of dedicated pathway for running or cross-country skiing, depending on the season and snowfall. Cyclists and other non-motorized wheeled travelers love this location as well. Animals have the right of way, so keep your eyes peeled for something unexpected!
9) Margaret Eagan Sullivan Park
Margaret Eagan Sullivan Park offers something for kids and adults. Playground and trail options bring plenty of diversions for individuals and families. Walking, running, biking, cross-country skiing, and snowshoeing are frequent activities here, depending on weather conditions, of course.
Also, check out these locations near Anchorage:
Chugach National Forest.

History and nature combine for a great resource in this reserve.

Lake Clark National Park.

Volcanoes, grizzly bears, and water resources offer plenty of science for everyone.

Katmai National Park.

View the salmon and watch the bears try to catch and eat this pinkish orange fish!

Baxter Bog Park.

Hidden in the trees, this great little boggy area offers plenty of options for those looking to raise their heart rate close to home.
Looking for a Place Close to Juneau?
10) Tongass National Forest
Tongass National Forest covers much of Southeast Alaska. Eagles, salmon, bears, fish, and colorful plant life all welcome you to explore the boardwalks and trailways. Take a hike, sled-dog ride, or go fishing in this vast forest space. Bring your binoculars and see what you can find in the largest national forest in the nation!
Also, check out these locations near Juneau:
Eagle Beach State Recreation Area.

Catch a view of oceanic wildlife from here.

AJ Mine Gastineau Mill Tour.

Pick up some local history at this fun site!

Glacier Gardens Rainforest

. Located within Tongass National Forest offers an array of colors to enjoy as you make your way through this gem.
Only in Alaska: Love the Active Lifestyle
Finding your active style may just mean that you only need to find something that draws you to find out more about your surroundings. Keeping our attention becomes much simpler when our surroundings are desirable to us individually. Alaska offers a higher percentage of open space for exploring than almost every other state. Combine this with the unique changing surfaces and intense weather variations and you have an outdoor playground on almost every corner.
Choose a location that allows you to return again and again or make it your goal to trod as many paths as you can fairly manage in a designated time. Do what it takes to get yourself up and out the door. Then, enjoy yourself and those you encounter – or those you don't encounter!
An America the Beautiful Pass offers entrance to all national parks and wildlife refuges in the United States. In Alaska, this comes in particularly handy due to a large amount of nationally protected land spaces. Many of the National Parks offer Junior Rangers program to help get the kids involved and ready to explore. Take the family or find your own personal quiet space for some yoga, cross-country skiing, or brisk walking!
Caution: Getting active can be addictive. Be prepared to enjoy yourself and take on a whole new lifestyle filled with wonder and amusement. Wear good shoes and be ready to take on all types of weather and goodness!
Schedule an Appointment and Receive
FREE One-Hour Massage Certificate
That's right! Receive a certificate for a free one-hour massage with our highly-trained and licensed massage therapists for use after your first appointment. Use it yourself, or give it to a friend.