If you live in the local Anchorage area and you're thinking about integrating a chiropractic care regimen into your lifestyle, first off, congratulations! Regular chiropractic care can enhance your entire health profile and aid in the alleviation of a whole host of health issues.
Maintaining spinal health is one of the best short and long-term decisions you can make for your overall health, as the spine affects all regions of the body and is connected to most health issues, chronic or isolated.
Many patients who integrate chiropractic care into their healthcare routine find themselves sleeping better at night, feeling energized throughout the day, and generally feeling better about their lifestyle.
Whether you're in the market for a new chiropractor, or this is your very first experience with the practice, there are a few key things you should be looking for when searching for the best chiropractor, especially in the local Anchorage area. There are so many to choose from, and you might be a bit overwhelmed at the amount you have to choose from.
Read on to learn about some important questions to ask, aspects of the practice to look for, and other general tips to help you get the best chiropractic care in the area! Use this guide as a starting point on your journey towards better spinal health and a more active lifestyle.
1) Read Reviews
One of the most useful tools for finding an Anchorage chiropractor is right at your fingertips — the internet. Social review sites like Yelp, Angie's List, Google reviews, and more will give you a comprehensive review of local people's experience with the chiropractor you're looking into.
You can always check the chiropractor's website itself for reviews, but these are likely to be overwhelmingly positive, given the fact that the chiropractor will probably choose his/her best patients to leave a review on the site. So if you want a clearer, more fair view of the practice, check out the sites mentioned above.
Other review resources you can use include friend and family perspectives. Odds are, someone you know in Anchorage has either gone to or heard about the chiropractic practice you're looking into. Sometimes your current doctors can also provide referrals, which may be even more beneficial since they can probably give you information about insurance coverage as well. If the chiropractor is well-known and recommended in the medical community, they're likely to give you great results.
2) Find A Specialist
If you're looking into chiropractic care for a specific reason or ailment, it would benefit you to do some extra research about specialists in that particular field of specialty. This is where doctor referrals can come in especially handy.
Many chiropractors specialize in areas such as sports injuries, neck issues, pediatrics, nerve damage, and more. If you have specific needs from your chiropractor, find out ahead of time if they can help you and provide a personally tailored experience based on your specific injury.
How bad is your pain?
Take our QUIZZES below and find out!
3) Schedule An Initial One-on-One
Perhaps one of the most important tips to finding the right chiropractor for you is to schedule an initial consultation. This one-on-one "interview" will allow you to get a sense of the doctor, office, practice, and what they can offer you.
Meeting the chiropractor in person before they begin adjusting you will allow you see if you feel comfortable with them and the environment before you start your care plan. That initial communication is key to ensuring that you establish effective communication between yourself and the doctor as well.
4) Make Sure They Listen To Your Unique Problems
During this initial consultation, be sure to notice if the provider seems to truly be listening to your health concerns. Showing compassion and understanding to patients is an integral element of well-rounded chiropractic practice, and you can be sure that your unique needs will be met as long as the chiropractor is engaged and invested in your health and wellness.
5) Location and Office Setting
On a practical level, its useful if the location of the office is convenient to you and your lifestyle. Maybe it's near your home or place of work. An easy drive will help you seamlessly integrate the care into your weekly/monthly routine. It also helps if the practice has multiple office locations for your convenience!
Also, see if the office setting is comfortable for you as well. Most people prefer private rooms to an open floor plan, but think about what would make you most comfortable while getting adjusted and look for that type of setting in your chiropractor's office.
6) Ask Questions About Their Practice
While you may be tempted to talk about your own health issues during your initial consultation (and you should!), don't forget to ask some general questions about their practice as well. This includes any special therapies they offer, how many doctors are available, what their hours are, and more. Getting a practical overview of the practice will help you feel more confident in your decision going forward, and help you figure out if it's the best practice for your needs.
Practices that offer extended hours beyond the 5pm workday end are a great choice, and if they have a same day promise, that's best both for convenience and in case of emergency. No need to prolong your pain any longer than necessary! A place that offers features like a 10 minute maximum wait time guarantee, or getting you an appointment same day if you call by 4pm, is also the sign of a quality practice.
Schedule an Appointment and Receive
FREE One-Hour Massage Certificate
That's right! Receive a certificate for a free one-hour massage with our highly-trained and licensed massage therapists for use after your first appointment. Use it yourself, or give it to a friend.

7) See If They Offer Functional Lifestyle Advice Outside of the Office
Another mark of a quality chiropractic practice is that they offer you lifestyle advice outside of the consultation/adjustment. This can range from posture tips to light exercises you should be doing for your condition to other functional at-home care. You can't see the chiropractor every single day, but these kinds of lifestyle adjustments and at-home practices make the biggest difference in your overall health, and if your chiropractor steers you in this direction, you can be sure that they're truly invested in your well-being.
8) Check Their Credentials and Certifications
You may also get further peace of mind and confidence in your chiropractor by researching and verifying their credentials and certifications. All U.S. states require that chiropractors receive undergraduate degrees and complete a doctor of chiropractic degree, which involves 4 to 5 years of intensive training in the chiropractic practice.
To maintain their license, all chiropractors should comply with this standard and any other continuing education requirements. Some go above and beyond to get certifications in specific areas as well. You can usually ask the front desk or your chiropractor about this and they'll give you their credentials, but you can also research this online on their website or in a state database.
9) Don't Be Afraid To Say No
You never have to commit to anything on your first visit or consultation with a chiropractor. If you're not comfortable with what they're offering, or anything they've suggested for you, don't be afraid to say no! It can be intimidating, because after all, they are the specialists, but it's your body and your health, so try to remain positive and grounded in your needs and comfort level.
Most chiropractors agree that treatments should be flexible and tailored to each patient's needs and progress, which might not mean a cookie-cutter package for every patient. Keep this in mind when discussing payment/scheduling, and don't forget to ask about their refund or cancellation policies.
10) Trust Your Gut!
Most of all, trust your gut when you meet your potential chiropractors. If you have a good feeling about them, give them a shot with a full initial consultation and take the practice from there! On the other hand, if you don't feel entirely comfortable, there's likely a good reason. Chiropractic care is an intimate and delicate process, so trust your instincts when it comes to providers.
Bonus Tip: Extra Services
As your care goes on over time, you or your chiropractor may realize that you'd like to integrate some extra body work into your healthcare regimen. These might include anything from physical rehabilitation to massage to muscle therapy and more. If you can find a chiropractic office that has the space and trained practitioners in these areas to give you a full body care treatment tailored to your unique needs and interests, you've found a really great practice. Chiropractic care can go far beyond adjusting subluxations and gentle muscle relaxation techniques, and you deserve the best all-around treatment Anchorage has to offer!
Any chiropractic practice that keeps up with new technologies, modalities, therapies, and advances in the field will also be beneficial for you. Medical technology is constantly advancing and moving forward to provide patients with as comprehensive and pain-free treatment as possible. This is especially true in the chiropractic field, where there are always new techniques and technologies being discovered to treat spinal and overall bodily health.
Find a chiropractor that is open to these new ideas and fully studies, researches, and practices them to integrate this into their practice. You don't want a healthcare practitioner that is stuck in his or her ways, because that's not the nature of the industry!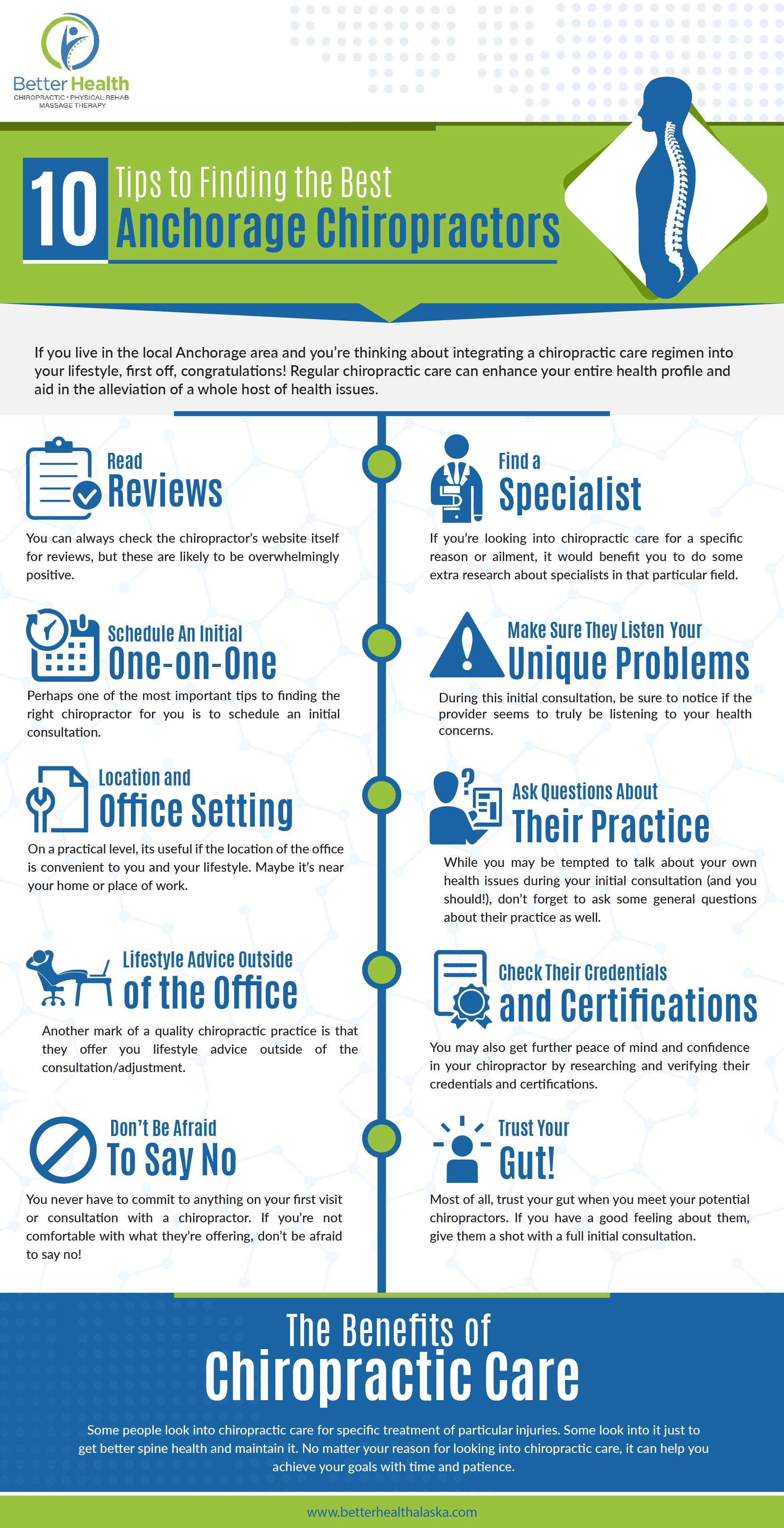 What to Expect During Your First Chiropractic Visit
Depending on the meeting you set up (whether a casual meeting/interview or a full initial health consultation), there are a few things you can expect from your chiropractor.
If you have a casual meeting, you're likely to control the conversation, asking them those important questions about their practice, credentials, potential therapies, and more so that you get a sense of the practice itself and what it can offer you.
In a consultation, the process will be a bit more involved so that the chiropractor can determine your unique state of health and the best care for you going forward. They'll start by asking you about your health issues and goals to get an overall sense of where you are. Then, the doctor will go into an examination to get a better physical sense of your spinal health.
Depending on any particular health issues and your overall health goals, they're likely to start by evaluating your posture and identifying any areas of overcompensation or misalignment there. Then, they'll go into assessing your range of motion in a variety of areas, including your shoulders, spine, neck, and hips. They'll also do some light muscle strength and flexibility tests, as well as take an inventory of your respiratory health.
After they have a good overall sense of your health, they'll go into some specified area evaluation where you have any acute misalignments, pain, tension, etc. This will involve a hands-on assessment of vertebrae placements and some slight correction, if possible.
These are the basic initial consultation tests, but if your case is a bit more involved, they may also refer you to different medical evaluations like an x-ray or bloodwork. For most patients, the above mentioned consultations is all it takes for a chiropractor to effectively evaluate your condition and set up a treatment plan for you.
How bad is your pain?
Take our QUIZZES below and find out!
The Benefits of Chiropractic Care
Some people look into chiropractic care for specific treatment of particular injuries. Some look into it just to get better spine health and maintain it. No matter your reason for looking into chiropractic care, it can help you achieve your goals with time and patience. Once you find the chiropractor that meets all of your credentials outlined above, you can start to reap the full benefits of a care regimen implemented by a chiropractor and start to see some of the amazing turnover that happens when you start caring for your spinal health.
Some of the most common benefits people start seeing when they regularly see a chiropractor include better sleep, more energy throughout the day, better posture and confidence, better digestion, less irritability, and less aches and pains all over your body (not just in your back). This last one includes chronic conditions like migraines and headaches too. Since your head sits on top of your spine, and it's pretty heavy to keep upright, most headaches and migraines stem from some sort of misplacement in the spine or neck. A chiropractor can detect and fix any issue like that within a few seconds.
The reason chiropractic care treats so many of these conditions and elicits these kinds of dramatic benefits is because your spine is the energy center of your whole body. When it's in line, your organs function better, your muscles don't need to overcompensate for any misalignments, and your body just generally functions as its meant to.
The benefits of chiropractic care go so far and beyond any single injury or misaligned vertebrae. It can really contribute to your overall lifestyle health and well-being, so no matter your reason for looking into chiropractic care, it will benefit you in so many more ways than you can imagine!
Summary and Final Thoughts
In the local Anchorage area, there are plenty of chiropractic practices to choose from. But how do you know which is the best one? First off, check with friends and family, and internet reviews, to see how other patients like yourself feel about the local practices in your area. Also ask your current doctors for any referrals or recommendations. Once you have a few favorites, schedule some one-on-one interviews with them to get a sense of what they can offer you, and make sure that you establish effective communication with them before you start a regimen. Also see whether or not you feel comfortable with the chiropractor based on initial impressions. Trust your gut when it comes to choosing the right chiropractor for you, as this is a very intimate form of care that requires full compassion and attention from the practitioner.
When you feel like you've made a good choice with a new chiropractor, schedule a physical consultation so that they can get a sense of your health status and needs and set up a care plan for you. They'll employ many different assessment techniques to get a clear, overall picture of what you need to live your best life.
Don't feel pressured into committing to a huge expensive package plan right away, unless you feel comfortable doing so. Ask about office policies and procedures to feel more confident in your control over your own care.
Regular chiropractic care can help with so many different health issues that it's hard to list all of them. If you came in for a specific injury, that will be treated in no time and you'll be feeling rejuvenated and refreshed in terms of your overall lifestyle as well. There are countless benefits to chiropractic care beyond specific injury treatment, so it's a great addition to anyone's healthcare practice! Start looking in your local area today.
Schedule an Appointment, Receive a One-Hour Massage Certificate!
That's right! Receive a certificate for a free one-hour massage with one of our highly-trained, professional, and licensed massage therapists for use after your first appointment. You can use it yourself, or give it to one of your family or friends for them to use!