DRS SYSTEM & LOW BACK PAIN TREATMENT JUNEAU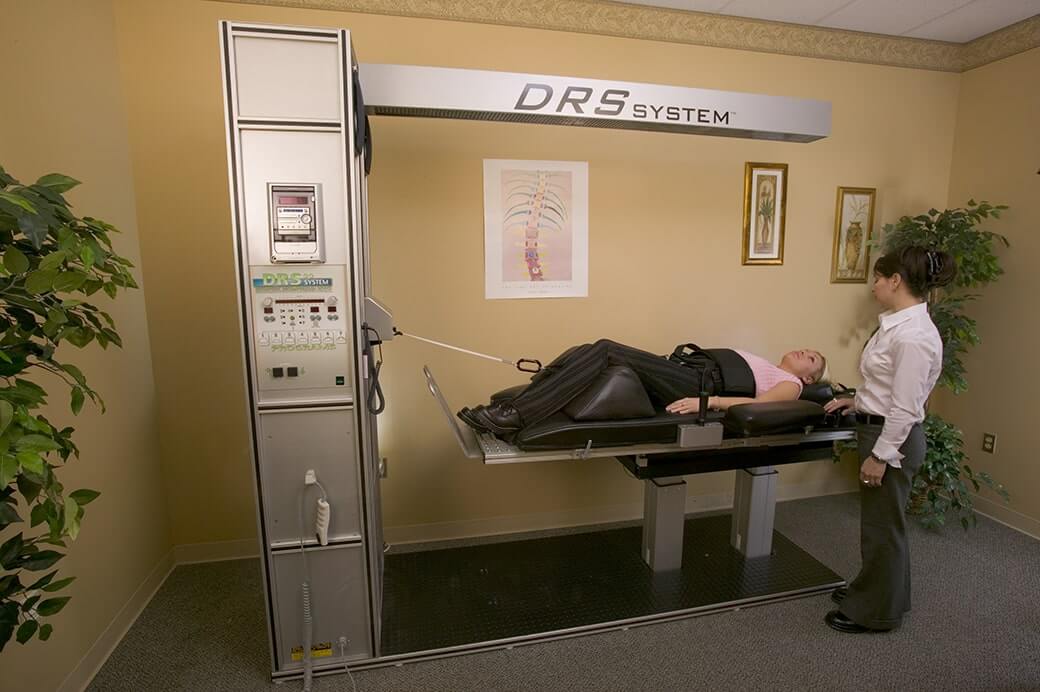 What Is The DRS System?
The DRS System is a highly effective back pain treatment, approved by the FDA in the mid-1990s and introduced to Alaska by Better Health Chiropractic in 2001. The DRS System uses a traction device to target specific areas of the spine, removing pressure from the discs and joints in the lower back.
This non-surgical form of disc decompression therapy has been shown to provide back pain relief in nearly nine out of 10 patients. It can also be an effective alternative to spinal surgery.
In each 30-minute session, which is monitored by a specially trained technician, the patient lies back on the treatment bed under a relaxing, blue light. The process is so safe and painless that many patients actually fall asleep during treatment! Afterward, many patients report immediate back pain relief. Treatments also help patients to avoid chronic pain conditions.
Our unique treatment program typically includes 20 to 25 sessions over a five- to six-week period. These sessions are typically followed by chiropractic care and rehabilitative therapy. In most cases, back pain will be significantly – or even completely – relieved at the end of treatment.
Benefits Of The DRS System
The DRS System provides many benefits including:
Back pain relief
Decreased leg pain or numbness
Distraction of worn-out joints or discs
Shrinkage of disc herniation
Long-term results
Improved daily function
Improved range of motion
The DRS System is often an effective alternative to back or spine surgery. And unlike back surgery, there is no recovery period. Plus, most insurance companies cover the DRS System back pain therapy.
Find our FAQs on the DRS System here.
Better Health Chiropractic Anchorage
8840 Old Seward Hwy, Suite E, Anchorage, AK 99515 (in the South Anchorage Retail Plaza, near Walmart, south of the Dimond Center)
Better Health Chiropractic Juneau
2201 Dunn Street, #2, Juneau, Alaska 99801 (across from the Frontier Suites)
Better Health Chiropractic and Physical Rehab is a full service chiropractic therapy combined with physical rehab care that Anchorage has never seen before. Dr. Jillian Peterson's knowledge of chiropractic and physical rehab therapy provides a thorough evaluation of the patients needs, including on site x-rays to see the damaged areas, which then allows the Doctor to create an individualized care plan, using advanced chiropractic care and the most technologically advanced treatments including the DRS System which removes pressure from the disc and joints in the lower back, a system that provides traction to stretch and relax muscles for neck, ultra sound deep heat systems, and physical rehab exercises that strengthen your troubled areas, to provide support to maintain your new straight tall body. Oh, yes, the staff is very friendly and don't forget you never wait more than 10 minutes. Love this combined chiropractic and physical rehab care, it really makes sense and its what I have been looking for!"